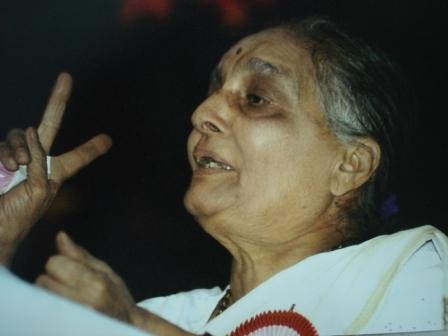 Late Vijayatai Lawate, founder president, Manavya, spent 35 years serving the cause of rehabilitating Commercial Sex Workers (CSW) and their children and their healthcare needs. 
To understand Manavya, we first need to understand Manavya's journey. The aim with which Manavya was first form, i.e Celestial Death for HIV+ children and women, changed gradually as a result of development in the field of medical science. With better and effective medicines the lifespan of people living with HIV increased, leading to the change in vision and missions of Manavya. It won't be wrong to say that, Manavya evolved as the time progressed. 

Vijayatai selected the name "Manavya" because she believed that humanity alone could protect children and women living with HIV from the ever-present shadow of death .  Vijayatai first set up a home in a rented accommodation with nearly 25 children in Indira Nagar. The temporary accommodation posed various problems in terms of health services, educational facilities and problems alike. After moving to ten different locations, Vijayatai finally managed to buy a land in Bhugaon, approximately 10kms from Pune. On 25th November 2000, children entered their very own home after a struggle of over 4 years. 
There has been no looking back since then. A lot of problems in the form of discrimination are faced, though the gravity of this issue has reduced with continuous and sheer determination of Vijayatai and her team. Manavya still strives to overcame the hurdles and are diligently working for offering the children and women a life full of opportunities, respect and acceptance. 
Vijayatai Lawate's untimely death on February 11, 2005 came as a rude shock to those who worked with her closely. But her relentless work had taken roots in and among the dedicated team of fellow trustees, volunteers and many others who were associated with her in her crusade and it is they who carry her good work forward now. As envisaged by Late Vijayatai Lawate, the numbers of women and children reported to be HIV kept increasing at a galloping rate. With space and fund constraint Manavya is not in the position to accommodate all those who are keen to get treated here. However efforts are on to raise funds to expand present facilities at Manavya.
Awards received by Late Vijayatai Lawate
2001 : "Jan Sewa " Award

2000 : Smt. Kusumtai Chaudhari Award

1998 : Mauli Anandi Award

1996 : Hingane Stree Shikshan Sanstha Award

1996 : Smt. Tarabai Raste Award

1995 : Bharatiya Stree Shakti Award